3rd Jersey
---
Third Jerseys
Below is the approved 3rd Jerseys that can be worn in sanctioned games with Hockey Calgary.
The McKnight Board and Hockey Calgary has approved the use of the following McKnight Third Jerseys. Sponsorship of individual teams is not encouraged but rather donations should be used for general team purposes. Teams may request the use of sponsorship decals or patches to Third Jerseys. For continuity, we advise that all sponsorship decals be of similar size and placed across the bottom back of the jersey (bum bar). McKnight must first approve all sponsorship decals or patches prior to attachment to the jersey. Jerseys must be purchased from team funds. (All players must be included and cannot require additional cash input from players.)
Supplier Update:
We will be using Elite Promotional Marketing only to supply our third jerseys this season. Jersey cost is $65 per jersey, if teams want sublimated Poly (mesh) socks to match jerseys they can contact Emily for pricing, contact is below. Approximately 3-4 weeks for delivery.
EMILY BILLINGSLEY
PROMOTIONAL MARKETING CONSULTANT
(403) 291-6174
emily@elitepromomarketing.com
#10 2239 PEGASUS WAY NE, CALGARY AB, T2E 8T2
2017 - 2018

In Honour of Willie McKnight's (Canadian Fighter Pilot that McKnight was named after) 100th birthday we are offering this optional shoulder patch for the 3rd Jersey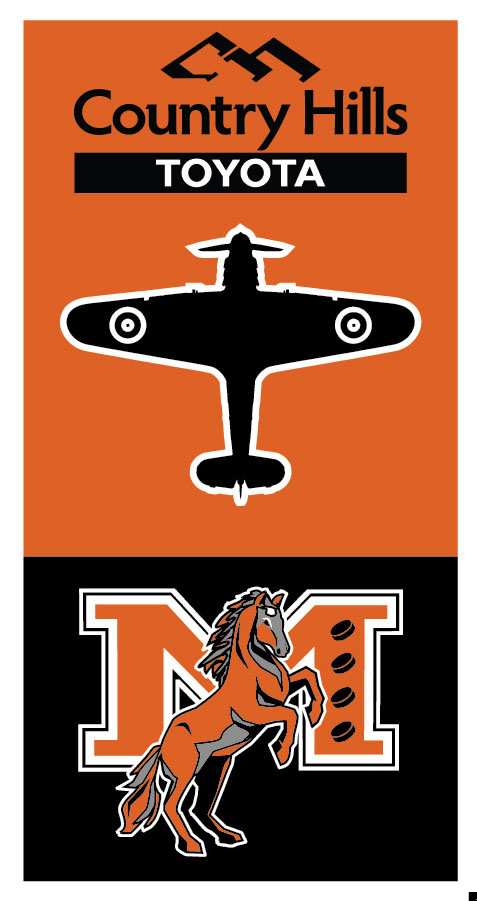 We will be using Modelline Hockey Socks Inc for knit socks for thirds (if teams wish to purchase) $12 per pair contact is below. Approximately 5-10 days for socks to be delivered.
Robert Cordoni
Modelline Hockey Socks Inc
1-866-590-6752
modellinehockeysocks@rogers.com