McKnight ROCKS!
---
Another Great Season of Amazing Accomplishments!
2017 - 2018 Season:
Peewee 2 Mentor Novice 5 Orange!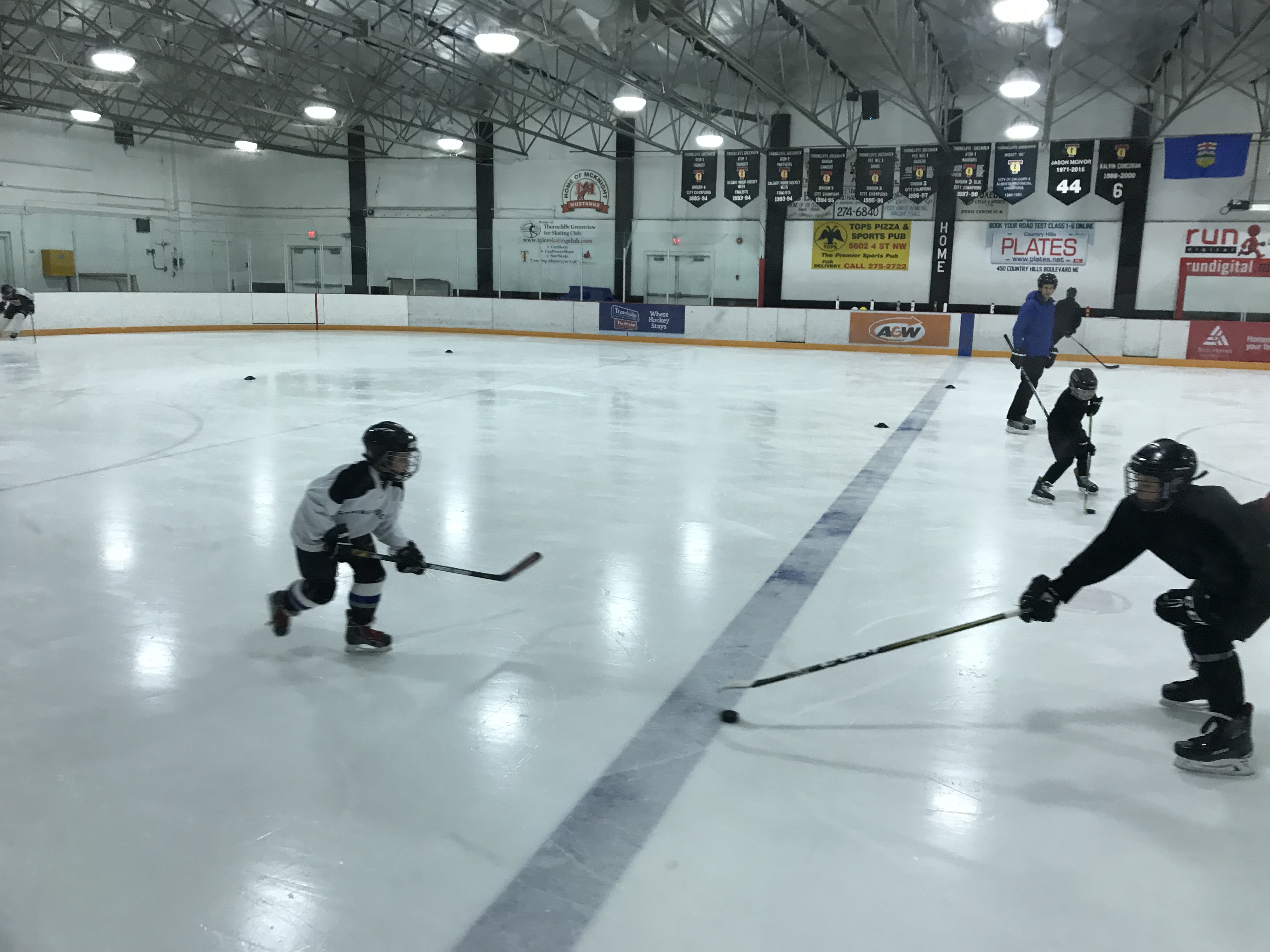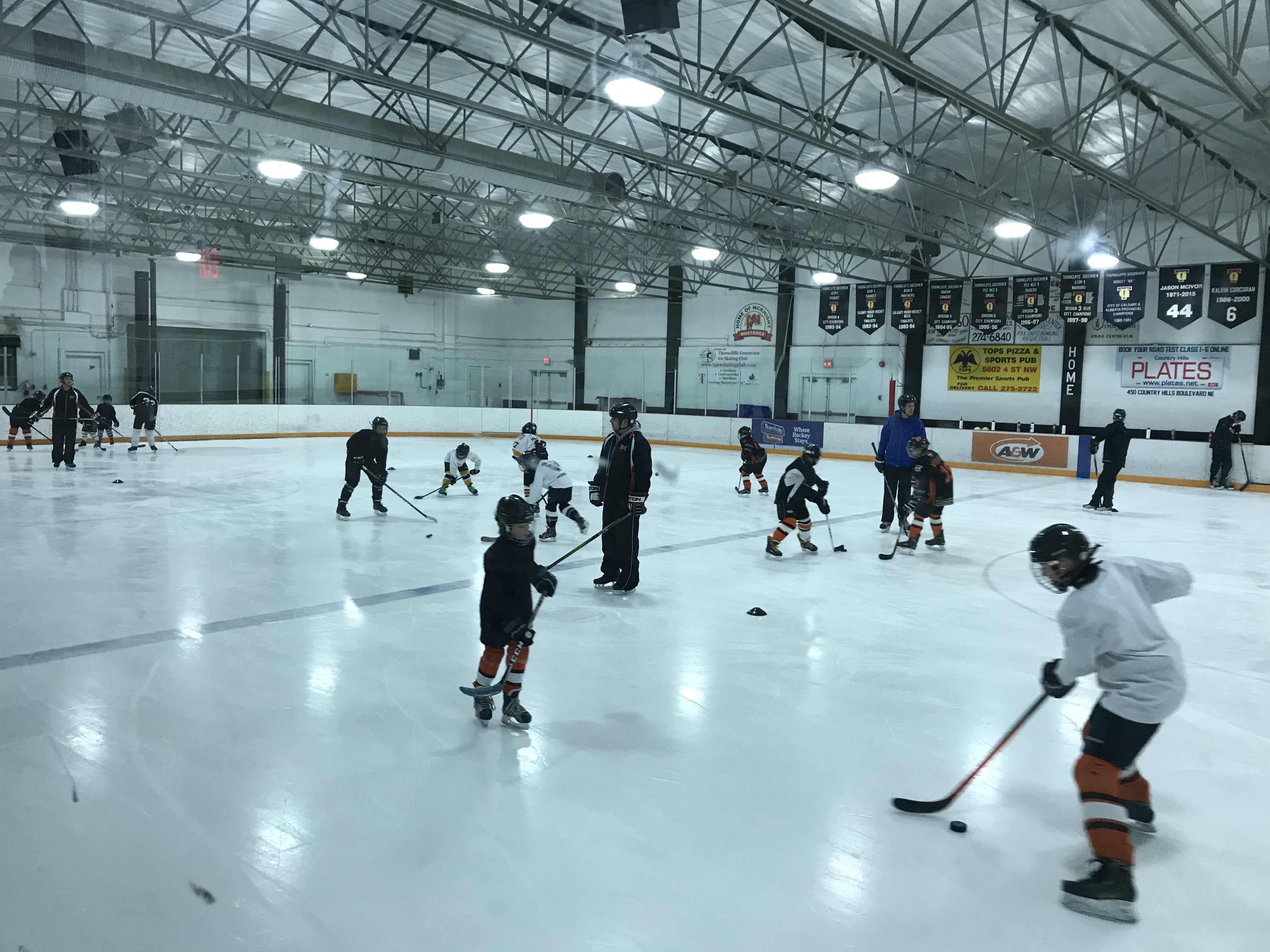 Congratulations to our Peewee 8 team - Gold for Esso Minor Hockey Week!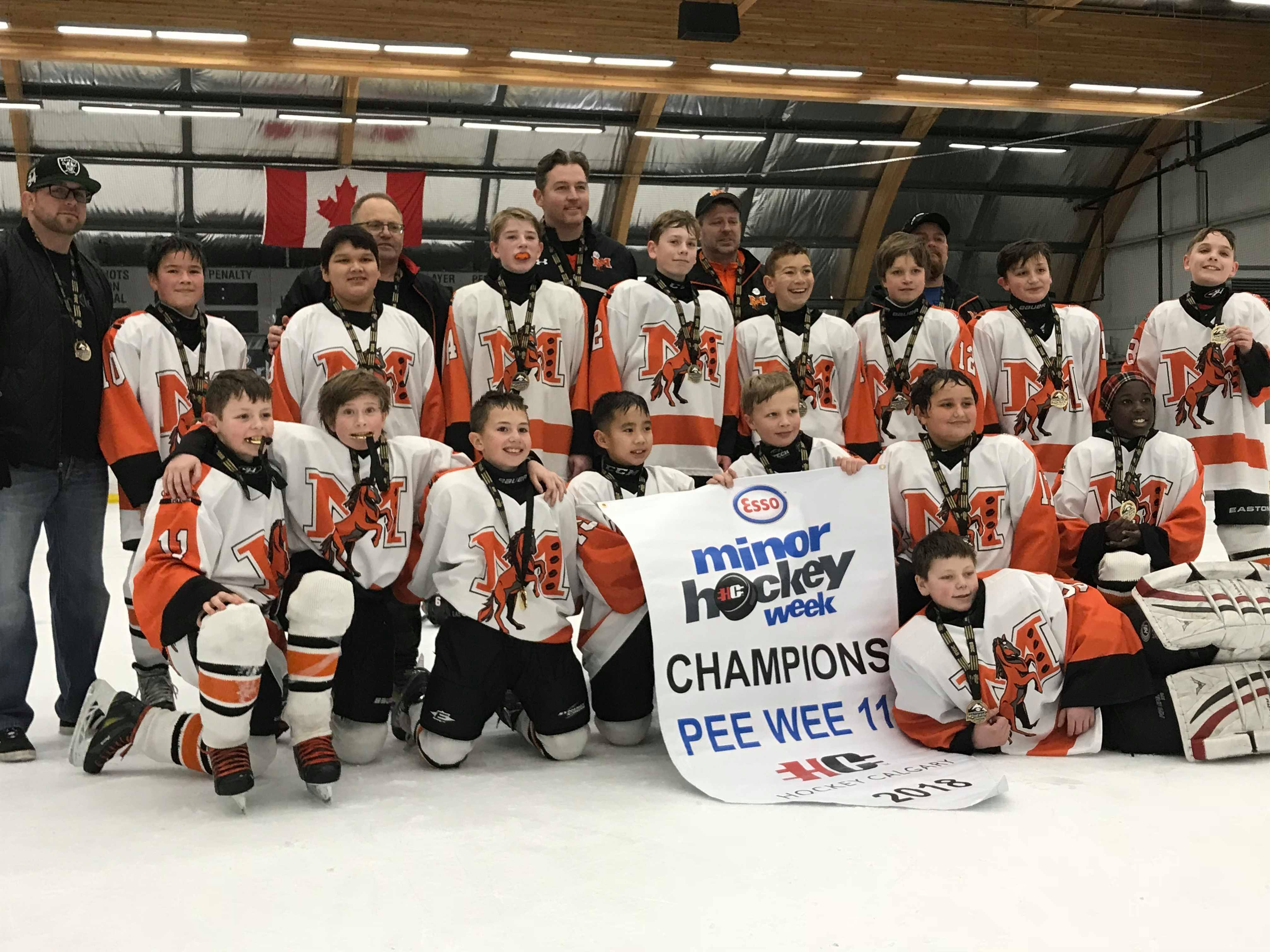 Congratulations to our Peewee 4 team - Silver for Esso Minor Hockey Week!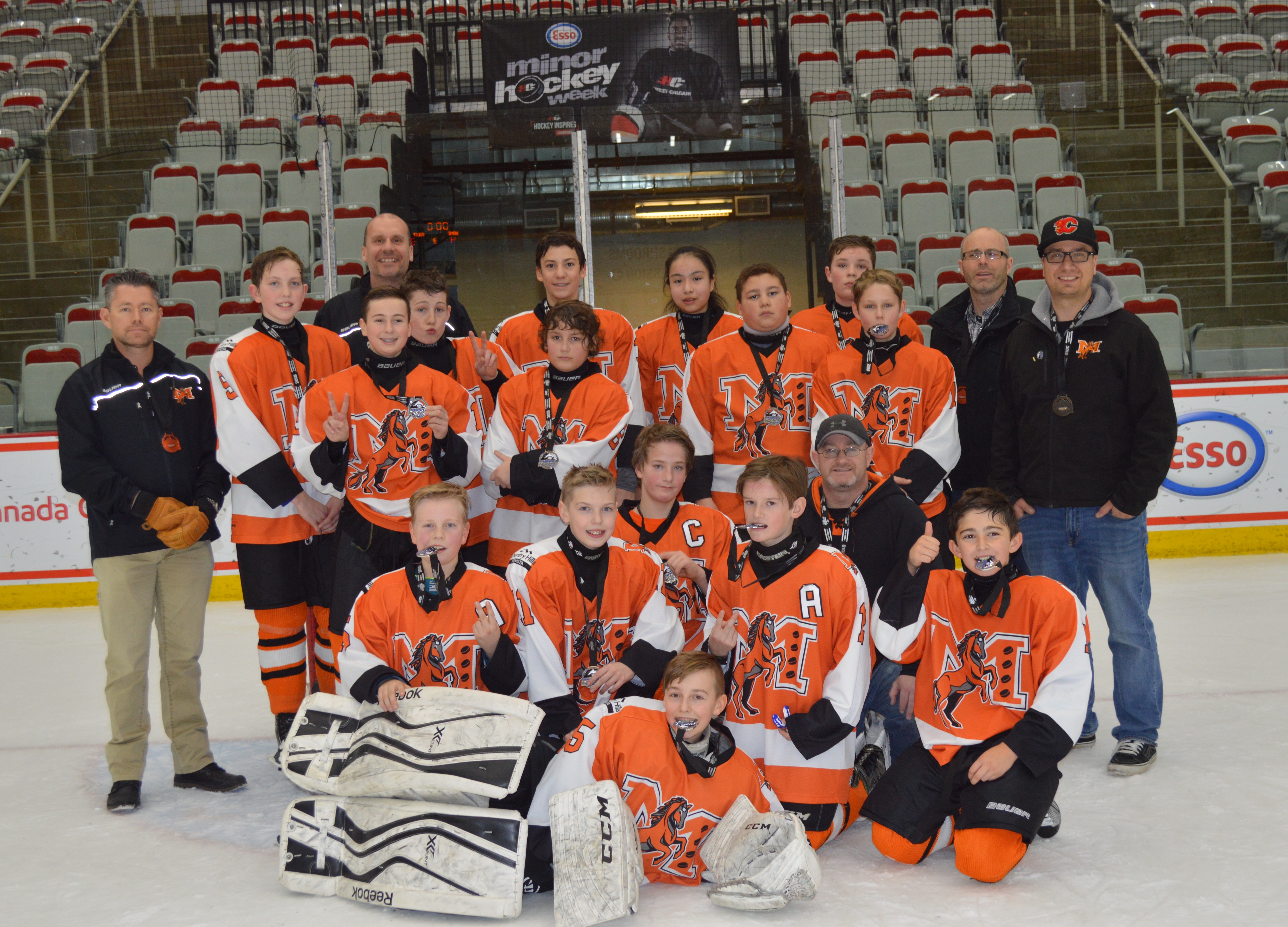 Hockey Day Alberta Participants - JR Timbits - RED VOLCANOES (Calgary) & Jr Winnipeg - Navy (Jets)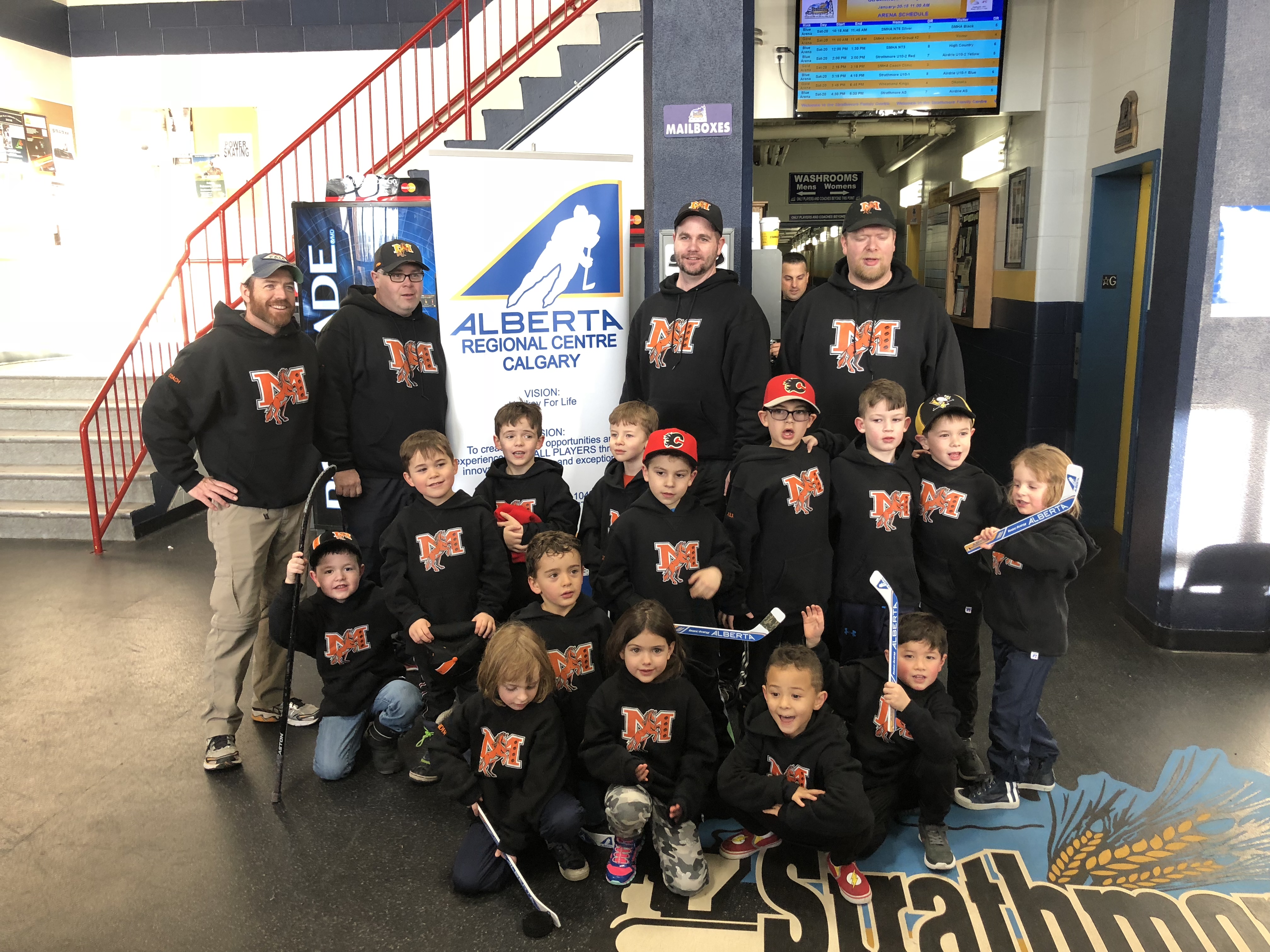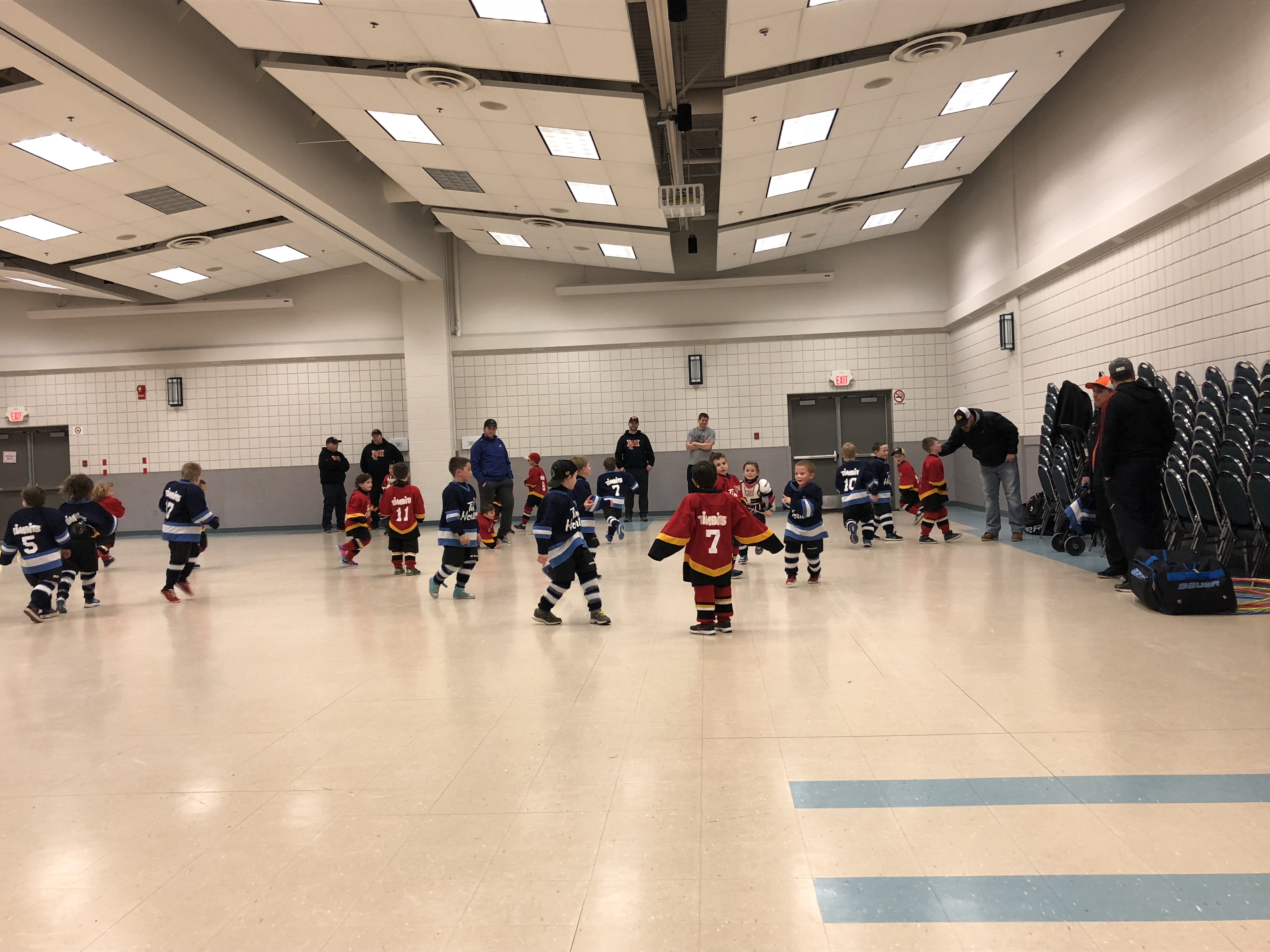 Peewee 9's Hockey on the Hill Contest Submission:
Peewee 9 Hockey on the Hill Video
Essay to accompany the Video:
The Long Shot

I'm on the blue line. My hands are sweating. My heart is racing. I get the puck. Can I make the shot? Then I think "this is a long shot" I lift my stick and.....

We are a country based on long shots. Throughout history Canadians have sought out challenges that seemed unattainable and taken the long shot. In the face of adversity, we have formed our great nation together; Terry Fox, Viola Desmond, Nellie McClung, Indigenous leaders, Tommy Douglas, Chris Hadfield, David Suzuki, Wayne Gretzky, and Hayley Wickenheiser to name a few. These great men and women had an idea, a vision, a goal and believed in something bigger than themselves. They inspired change in people, communities and our nation. Like them, we believe that we have a responsibility to contribute -and to play hockey! We want to BE the change we want to see in the world and have committed to three regular gifts of service; being Snow Angels, the Calgary Food Bank, and our Parent Challenge. We hope our energy and creative spirit motivates positive changes in the world. Today, like those who have come before us, we are taking this long shot; hoping our efforts afford us the life changing opportunity to play Hockey on the Hill! With your help and encouragement there's no limit to what we can accomplish. As Wayne Gretzky said, "You miss 100% of the shots you never take". Together we are strong. We are proud to be Canadian!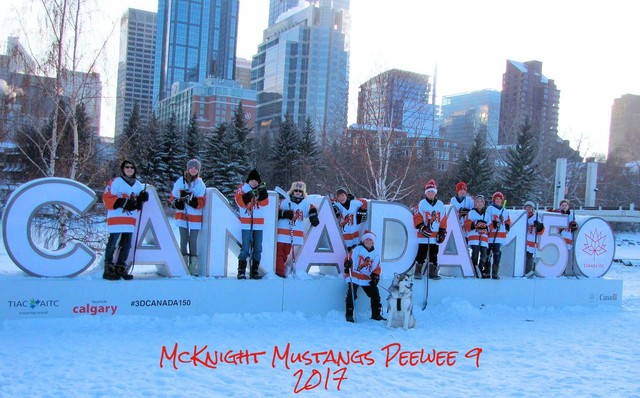 2016-2017 SEASON:
PEEWEE 3 MENTOR TIMBITS!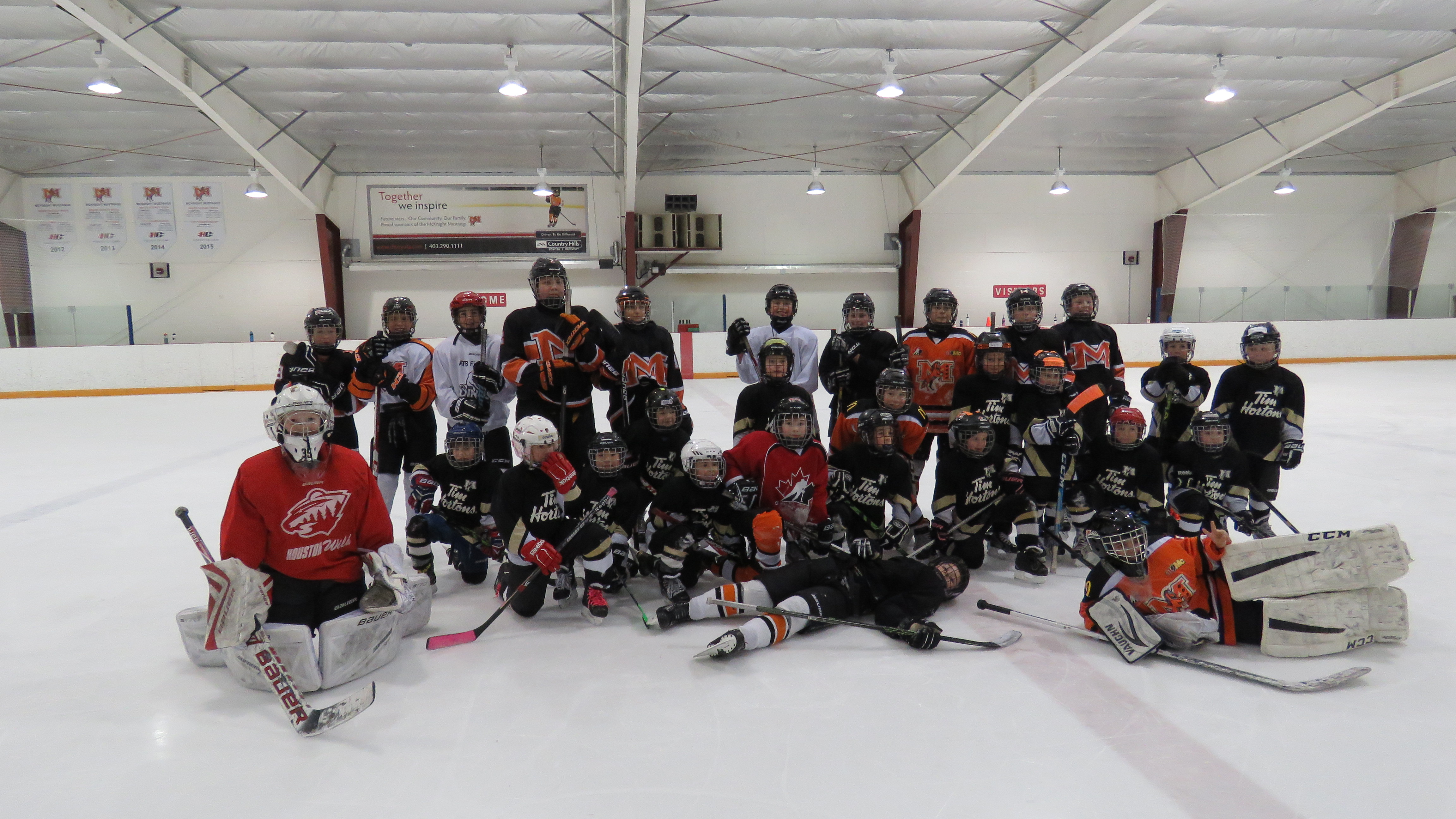 Congratulations to our Bantam 4 and Bantam 6 teams - GOLD for ESSO MINOR HOCKEY WEEK!
BANTAM 4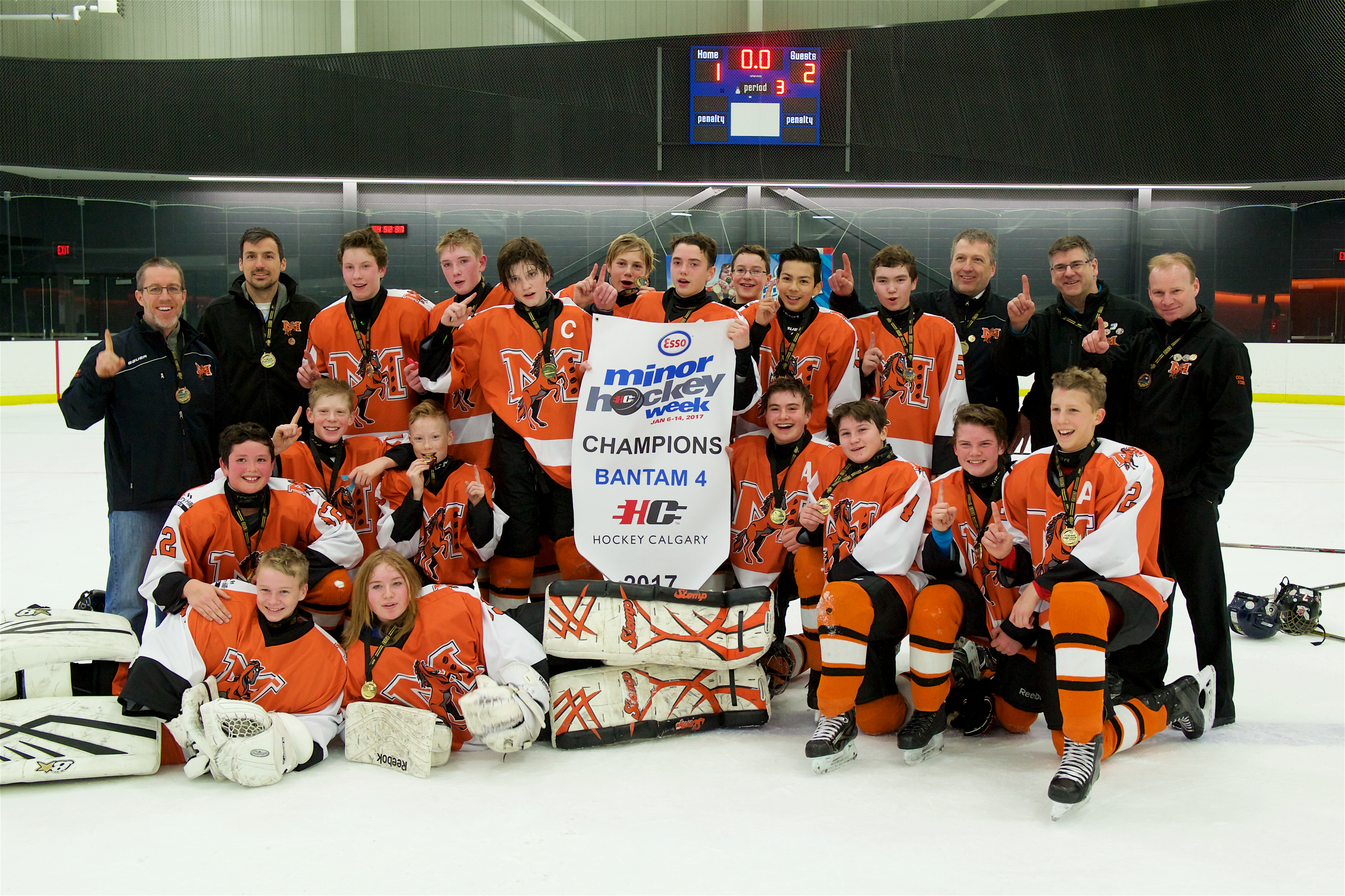 BANTAM 6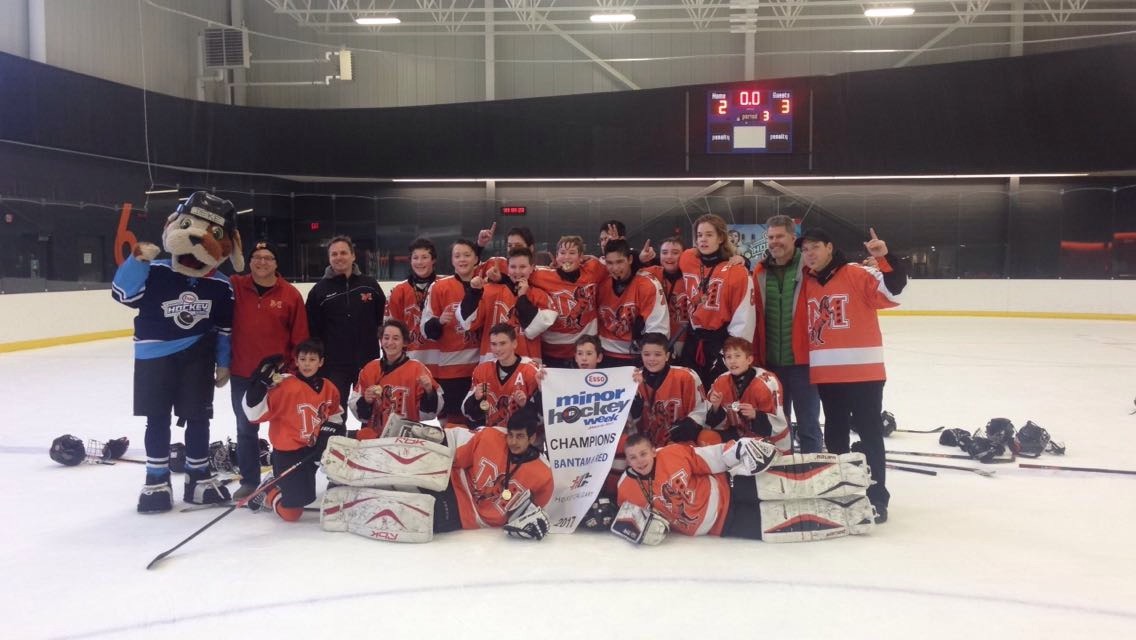 Our Atom 4 Black Team put their Christmas party to good use, and decided to try to raise funds for the Ronald McDonald House Santa Snack Program. They created a Stanley Cup out of Candy and had participants guess the number of candies to win it all. Here are a couple of pictures.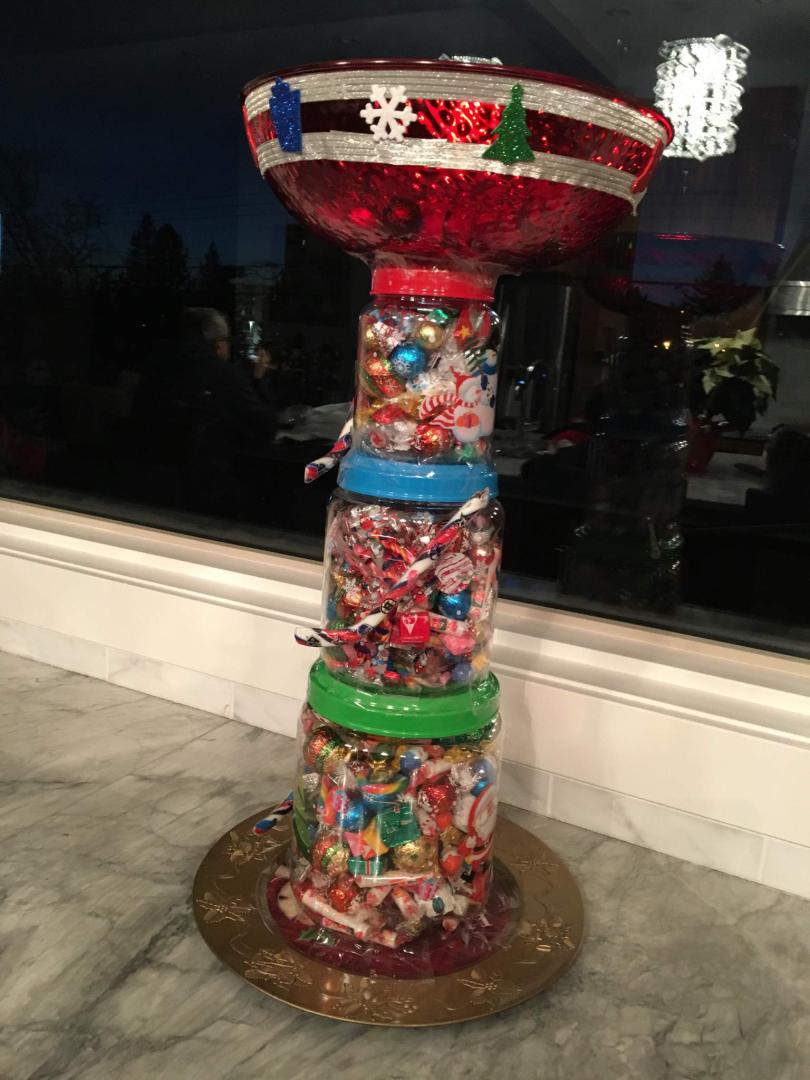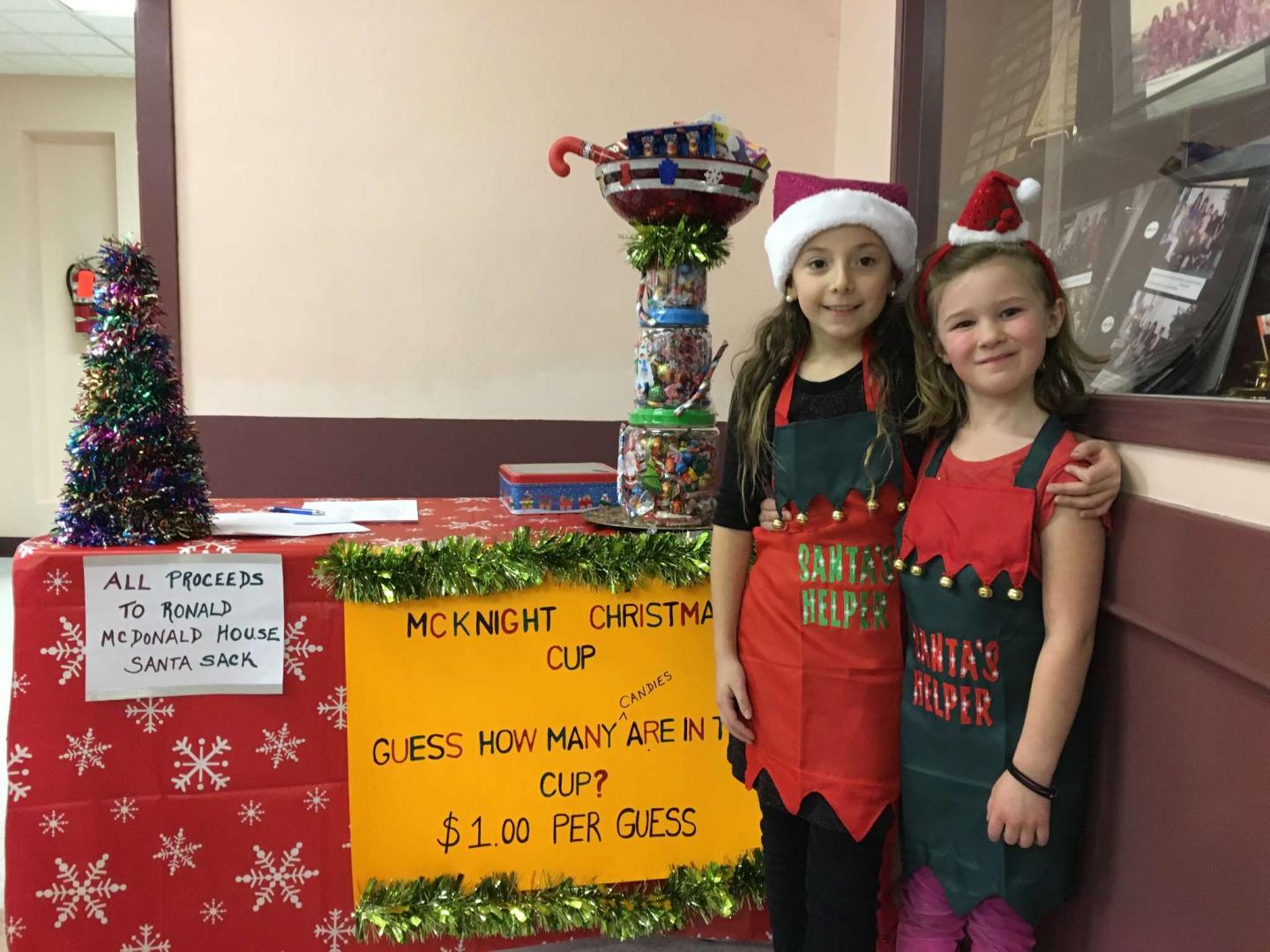 Atom 3 Black win the Saints Tournament this weekend - December 11, 2016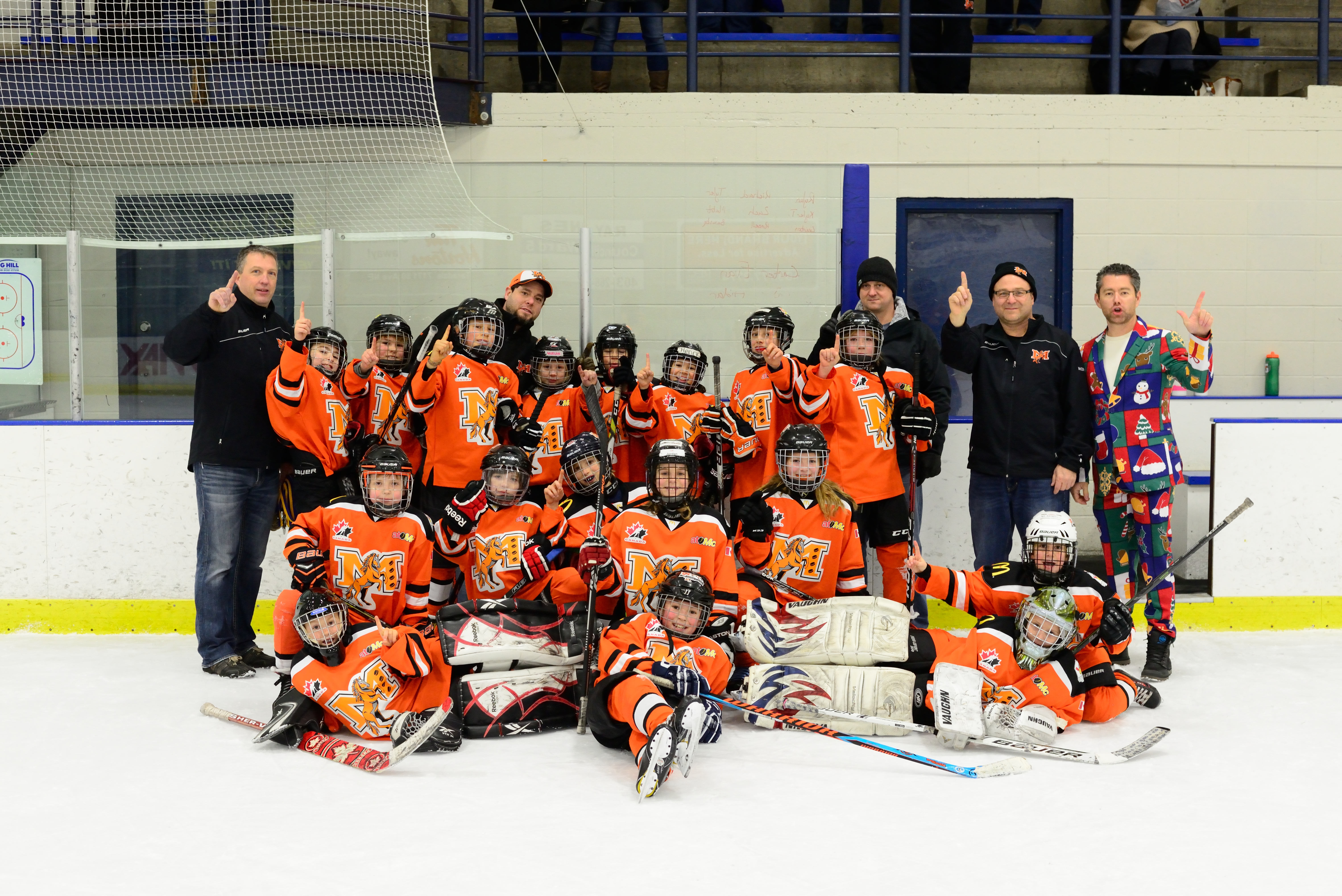 ---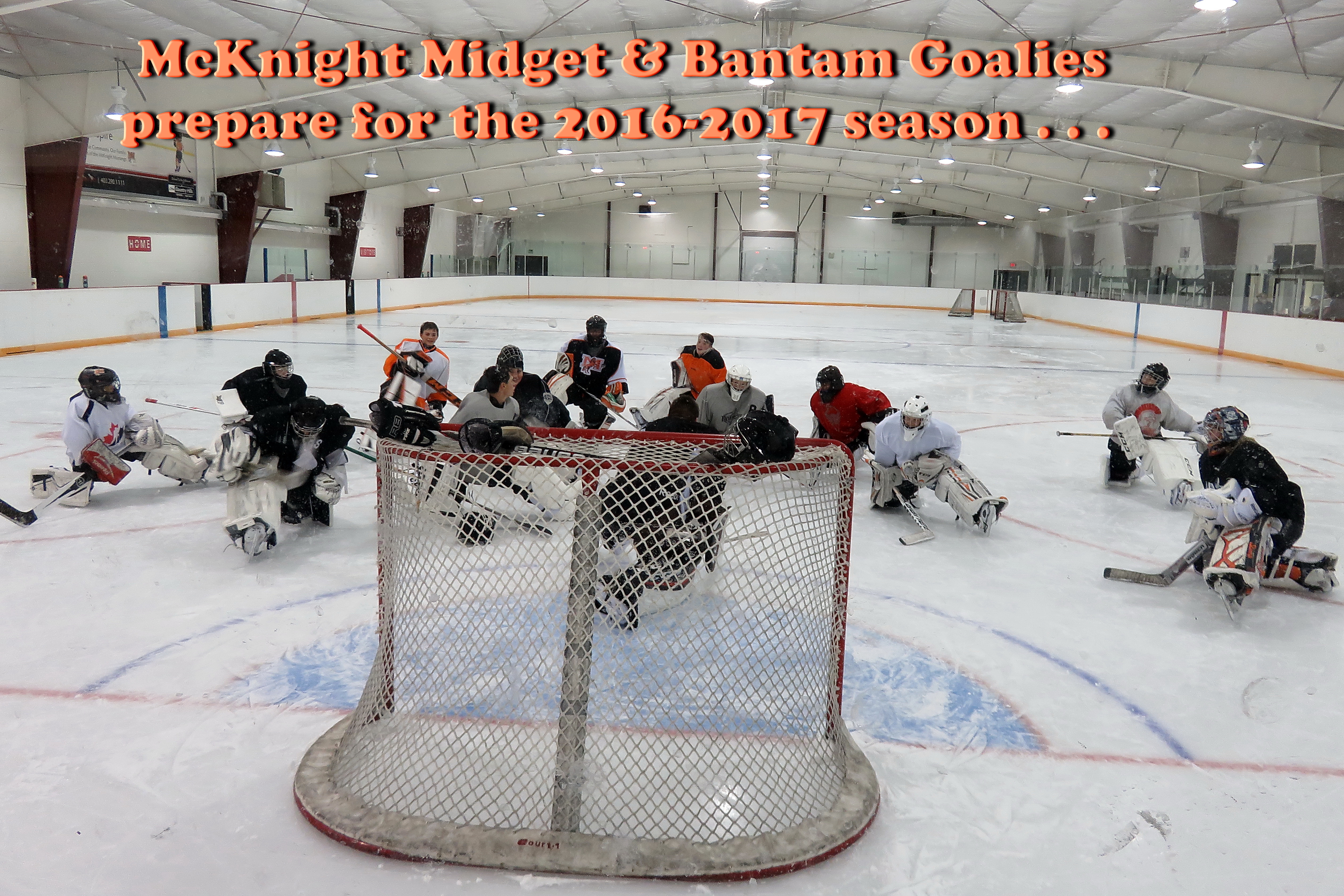 ---
---
---
2015-2016 Season:

Way to go MUSTANGS!


Another amazing win for Novice 3 Black at their hosted McKnight Tournament!



Novice 3 Black goes for gold and wins in a Shoot out!



Atom 2 wins gold out in Canal Flats!



Atom 6 would like to thank Bantam 4 for coming out early in the morning for a mentoring practice.



Congratulations Atom 6! = Sparwood Tournament Gold!



ESSO MINOR HOCKEY WEEK 2016:

Congratulations to our 4 Championship teams! Atom 4, Atom 8, PeeWee 6, Midget 1

Atom 4


Atom 8


PeeWee 6


Midget 1

---

With the Holiday Tournament Season started, we congratulate the following teams:

PeeWee 6 and PeeWee 8 - PeeWee Driven to Be Different Tournament - Sponsored by Country Hills Toyota! Both of our PeeWee teams won GOLD at the tournament! Way to Go!

Bantam 1 - Congratulations for winning the North West Warriors Tournament!



Bantam 3 - Congratulations for winning the North West Warriors Tournament!



Atom 4 - Congratulations for defeating Simons Valley in the Calgary Saints Tournament!



Novice 3 Black - Congratulations for winning the Glenlake Tournament this weekend too!

---
---
2014-2015 Season:

Atom 6 had a great showing in the Saints tournament this past weekend! Made it to the A final in a division higher than they play! These boys are all heart!

---
---
---

This year McKnight swept gold at the Atom Breakfast Television Outdoor Classic Tournament!
3 gold medal winners!

Congratulations!
Atom 1


Atom 3


Atom 5

---
If you have a team that deserves a "SHOUT OUT", please send us your news, and we'll be sure to let the rest of McKnight know so that we can celebrate with you!
GO MUSTANGS GO!
---
Check out these local news articles featuring McKnight Hockey!

A dream come true for a McKnight Cancer survivor - Calgary Sun, November 8, 2015

Sudan-born teen thriving on ice - Calgary Herald, January 14, 2015

Hockey club scores through Toyota dealership - Calgary Herald, March 12, 2014

Calgary minor hockey player bounces back from traumatic brain injury - Metro News, January 21, 2014

Hockey passion unites Calgary Family dealing with challenges of autism - Calgary Herald, January 15, 2014

Puck Passion lives on... (Coach Chad) - Calgary Herald, January 14, 2014

Donations pour in for High River Hockey - Calgary Sun, July 4, 2013

Hockey Alberta helping out High River kids - Calgary Sun, July 9, 2013

Taylor Hall honed his skills on backyard rinks - Edmonton Journal, April 10, 2010 (Did you know that Taylor Hall played for McKnight?)
---
Show your support ~ Share your experiences
Do you know someone that may be interested in playing hockey? Maybe a friend at school as admired you in your orange and black and wants to be a part of something amazing?

Please check out our "NEW" 2-page brochure, and share it with everyone you know! Pass the word, McKnight is a great hockey organization and we want your help to showcase it!

Brochure page-1
---
Congratulations to our McKnight TEAMS!

In case you missed them in the Calgary Herald/Calgary Sun, check out these Championship Photos!!

Atom 5



Atom 6



Bantam 4



Midget 2



Midget 4




McKnight Atom 4 won the NW Warriors Fall Freeze Tournament in October! Way to go Atom 4!



Bantam 1 start the season off as tournament champions winning the Springbank Bantam 2 Tournament in a shootout! Awesome!



The Midget 1 boys won the Black Aces Tournament in Saskatoon, Sask this weekend.
Going out with a bang!

---

CITY CHAMPIONS: AND THE WINNERS ARE...

Congratulations PeeWee 7!



Congratulations Atom 2! Double overtime win 5-4! WOW!



Congratulations Bantam 1! Our first team to win this year!



And let's not forget their amazing coaches! What a proud group!



Check back soon, as we've got 3 teams in the finals, and another 3 in semi-finals and one making their way to the semi-finals....Check out our home page for more information or refer to the Hockey Calgary website...


---

The Christmas break has had many of our families in the hockey rinks, even more than usual, attending tournament after tournament. We'd like to send out a Congratulations to all of our teams!

Here are a couple of photos of our McKnight "Champions"!

McKnight PeeWee 5 team won the Westwood Tournament December 22, 2012.




McKnight Midget 1 won the Holiday Classic Tournament in Fish Creek December 23, 2012.




McKnight Atom 4 won the Blackfoot Hockey Atom Tournament over the Christmas break...a first for many of those players to win a tournament! Way to go!




Mentorship at it's best! PeeWee and Timbits!


Check out the video on YouTube, more great pictures and video from this mentorship event!
http://www.youtube.com/watch?v=RYApD1dRIIU


He are a couple pics from the opening of EMHW...



Novice 3 team winning GOLD at the Trails West tournament on December 29 and 30, 2012. Way to go kids, they worked hard for it!




Atom 2 - Westwood Tournament Champions
December 21-23, 2012




Bantam 6 entered a tournament a division above what we normally play in and had a great result. Winning 2 of 4 games including the B side final in a shootout that took 9 shooters to win. All of the games were close.




Peewee 6 won gold in the Calgary Saints Tournament December 12-16.

---
ESSO MINOR HOCKEY WEEK CHAMPIONS!

NOVICE 1



ATOM 4



PEEWEE 7

---
Minor Hockey Relay Race - McKnight represented at the January 26 Flames vs. Oilers game!
Novice 3 had some pretty excited players on the ice at the intermission at the Saturday January 26 game, Flames vs. Oilers.

The team:
#9 Brendan C
#12 Jake N
#15 Matthew W
#4 Alex B
#7 Robert J

They jumped over hockey sticks, skated tight turns around the cones, and superman dove under another hockey stick. The boys were so fast that there were some tires and sticks that were flying throughout the relay race and in the end our Mustangs won a hard fight against Shaw Meadow's Angry Birds and had a fantastic time! Please see the attached photo of them on the ice as they won! The boys had a fantastic time and were proud to represent the McKnight Mustangs on the Ice!!! At the exciting end of the evening, the Flames defeated the Oilers 4-3!

---

Having some fun on the ice!

---